~
This Prez has a habit of putting himself on notice. Health care by this past November, GTMO sold as prison-themed beach condos by this January, and now, we'll phase out of Afghanistan in 2011, whether things get real or not. No punting this past the next election. Ballsy habit. And new, in my lifetime of presidents.
Of course none of these targets get met. So far they've been like the low bids conractors use to get a project started, then come to you helmet in hand to say they can't meet, but for a new cost they can surely be finished by a few weeks from then! And so on. Either that or Barry's such an academic that deadline haggling has infected the deep recesses of his brain.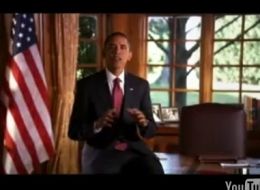 America, I couldn't expect Mittens would get sick this week, and you know, the semester doesn't actually end until Tuesday …
It's too early to tell if this is habit, good strategy, bad strategy or weakness. But with Obama and Emmanuel, you should always look for the Second Effect. And it occurs to me that since a deadline gives critics something to target … it gives critics something to target. And when Republicans went absolutely batshit this August, and the deadline was not made, did the healthcare bill die on the floor? When the crecendo of "missed promise" stories run in January, do you think the Administration will stop the process of unwinding Bush detention policies?
Of course not. The plan will push ahead, while the spinmeisters blow their load on a dummy date. And make themselves into the news object. It's been a solid decade of Obama granting his enemies theatrical triumph after theatrical triumph, and taking all the important marbles in the end.
This may be the plan for the Taliban as well. What if they wake up in 2012, after exposing themselves in a Tet-style demonstration fight, telling the whole world the Americans would be chased out … and we're still there?
Could our CIC be so sure of his goals, that he's taken to scheduling other peoples' false triumphs?
It's only been a year. We'll see.